This is the list of the community's Shade 3D software requests. Please post replies of requests you would like to see implemented in Shade 3D. I am not an e-Frontier or Mirye employee. This is just my thread of requests that I open up to the community to add to. This list will be updated through edits to the original post.
Poly Modeling Requests
-Vertex Target Weld: Take one vertex, and move/weld it to another vertex. This keeps the position of the targeted vertex unmoved. (a must for optimizing)
Example of a model that target weld would be lovely for optimizing:
-Deleting edges and vertexes without deleting faces: Keeps the model solid, and streamlines the optimization process by not having to create new faces. I believe in 3ds Max, you press "Ctrl+DEL" to delete edges without deleting faces. Just pressing DEL will delete both edges and faces.
-"Connect" (3ds Max) or "Loop Cut and Slide" (Blender): Like "Slash Face on Edge" but controlled by input, so you can place a specified number of lines in the exact center, and then move them from there.
-Current selection information box: Editable coordinates for selection (eg. vertex placement). Currently, you must know your position, where you want it, and then do the math to figure out how far you want to move it, rather than just inputting the coordinates of where you want it to be.
-"Slash Face on Edge" "Edge Loop Slice": Please make program and manual match commands.
-Rotation option for torus creation. If you make a U 20 V 4 torus, you always have an edge on top, bottom, inside, outside. If we could rotate the torus 45 degrees, then we could have polys on the top, bottom, inside, outside.
-Cylinder creation: Currently, mesh cylinders are created with a single face on top and bottom and these need to be rebuilt into quads every time a cylinder is created. On creation, cylinders should have triangles going to the center, and quads to every circle within the face. This, alongside being able to delete edges without deleting faces (see above) would allow for easy quad retopology by just deleting every other edge between the triangles in the center.
-More selection options: "Grow/Extend Selection" "Shrink/Contract Selection" "Select Nth Pattern" "Select Next Loop" "Select Previous Loop"
-Lathe tool modifier for poly meshes: Modify the mesh to lathed options.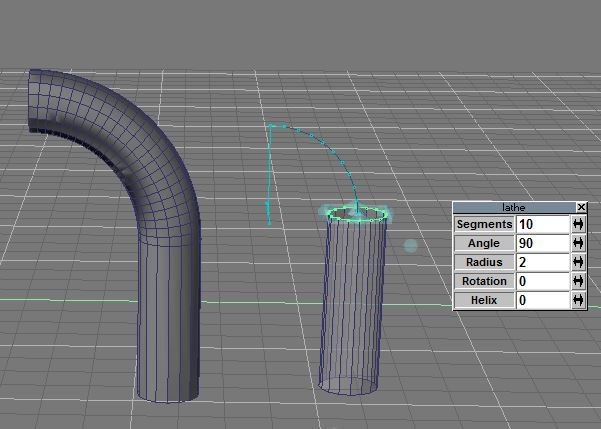 General Modeling Requests
-Multilevel path or surface replicators: If you start nesting replicators one inside another, it ends up getting buggy. Lets say we create a replicator for the branches, and then other replicators for the sub-branches, and then other replicators for the leaves. Trunc/Replicator/branches/replicator/Smaller branches/replicator/leaves This way modelling a couple of geometries you could build a tree.
Materials/Textures/UV Work
-Texture Baking and Node Trees:
Chikako
"(Id like node tree options too), but Id really like to be able to bake those materials into a texture map that I can then edit in an external program."
-Open Line Seams: The industry's standard face UV is to have an open seam from the top of the forehead down to the back of the neck, and around the neck. Currently not possible with Shade's requirement for closed line seams.
-Displacement Maps: Requesting 16 bit displacement maps. 8 bit maps are too coarse.
-A flow graph for materials.
Animation
-Previous/Next keyframe shadows/onionskin for animation. (see Messiah Studio)
-Return of the old Compo Joint we had with Shade and it's Callisto Renderer.
User Interface
-Customizable parameter/tool options. (see 3ds Max)
-Changing the "Base" color in Preferences/Colors to any color and not only from Black/Grey to White.
Software Requests
-CryENGINE export plugin: CryENGINE requires an export plugin for FBX models to be implemented in their game engine. CE3 is currently limited to 3ds Max, Maya, Blender, and Sketchup. **CE3 is looking to support general FBX files, so this request may be removed**
-GoZ bridge: Interaction with Zbrush.
-Linux version.
-Update license to allow installation on a desktop as well as a laptop, as long as only one is being used at a time, so that we can have Shade on the go.